Jessie and Dave's wedding

2008-08-06 | 9:14 p.m.
Sounds: Five Star mixed with Amelie
Clothes: suits and gowns
Food: duck, liver, steak, cake
Feeling:
Love is lovely


I will write a diary entry about Jaya's birthday party in due course but first I must write about Jessie's wedding in sunny Normandy.

Our ferry over to Dunkerque was at 2.00am on the Wednesday morning, so Tuesday night we put the children to bed as normal and then carried them sleeping into the car and bundled them into their carseats in blankets at around 10.00pm. They both woke when we arrived in Dover at midnight but Jove went back to sleep leaving us with only a very excited Jaya to deal with. This is Jaya just before we drove onto the ferry.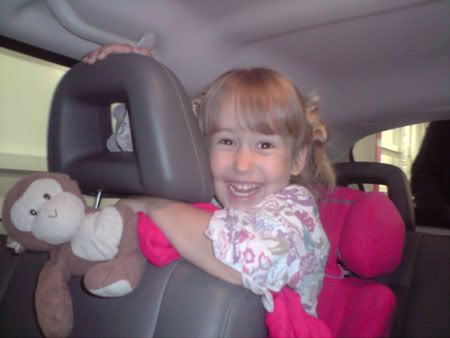 She was beyond excited and there was no way we were going to get her back to sleep on the ferry. Jove settled down nicely across two chairs and pretty much slept the whole night through on bed, car, ferry and car again. Jaya got the next most sleep with only that awake moment for the ferry, but I only got a few hours here and there and Stu had no sleep at all before we arrived at the Chateau at around 11.00am local time. The Chateau was stunning!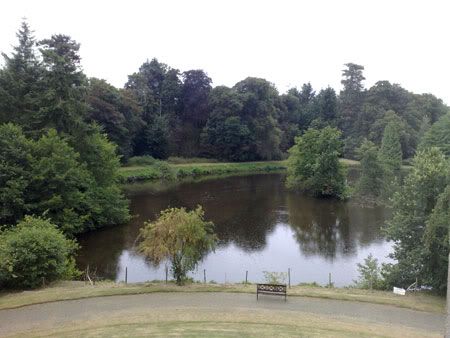 There are loads of more details about the Chateau here. It was on four floors; the basement had the kitchen, larder, washrooms and storage rooms. The ground floor had loads of reception rooms; dining room, living room, games room etc. etc. Then the first and second floors were given over to various guestrooms, some with ensuite, and toilet and shower rooms.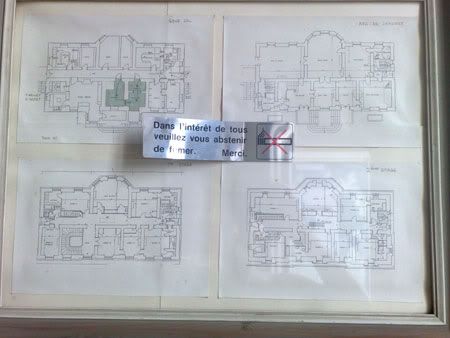 We were in room number 14....confusingly called Louis XV (Louis 15th!), which had a double bed, two huge single beds for the kids and a sink and bidet.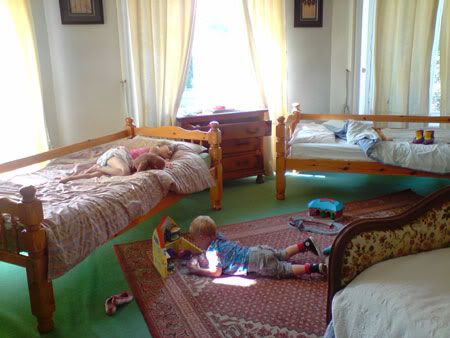 It also had a bizarrely long, high and narrow cupboard that we decided to turn into a nappy cupboard to shut them all away!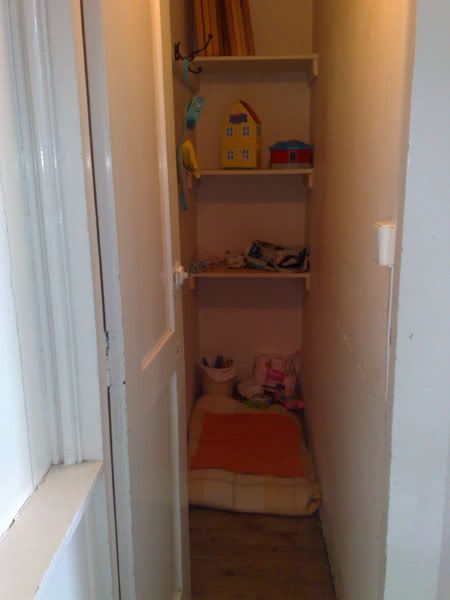 That first day after we arrived Stu took a nap and the kids and I had an explore of the place.
There was even an outdoor pool, which was a bit cold, but the kids and I went in a few times on that Wednesday while Stu napped. Jessie and Dave were super busy that day as they wrote out all the place names and sorted the table plan. They had organised the whole wedding themselves and it was just amazing as it made it so very personal to them. Stu and I got a fairly early night that first night and so were up and at 'em the next day. The wedding wasn't until 3.00pm though so we took the time to do some shopping...
....and make sure the kids had a nap....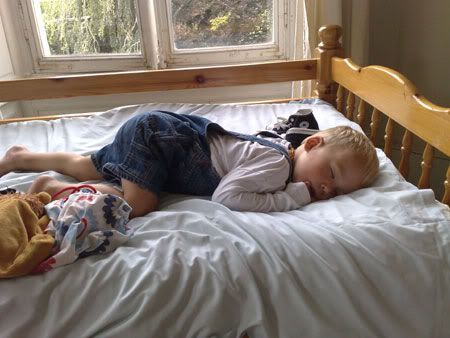 Then it got closer to the time so I laid out the clothes.
I'd already showered, so Stu took his whilst I got the kids and myself dressed. Jaya was so excited about her pink dress and her "fascinator"! She was also very excited by my outfit to be a bridesmaid and was desperate to get a sneak peek at Jessie. Once Stu got back though I ran off to attend to the Bride-to-be and left him to take some photos of our two all dressed up.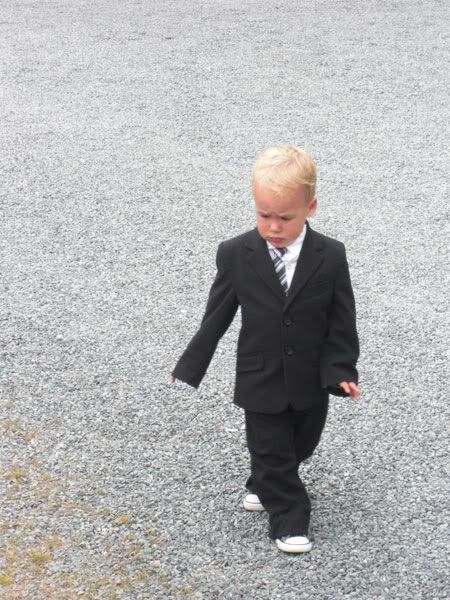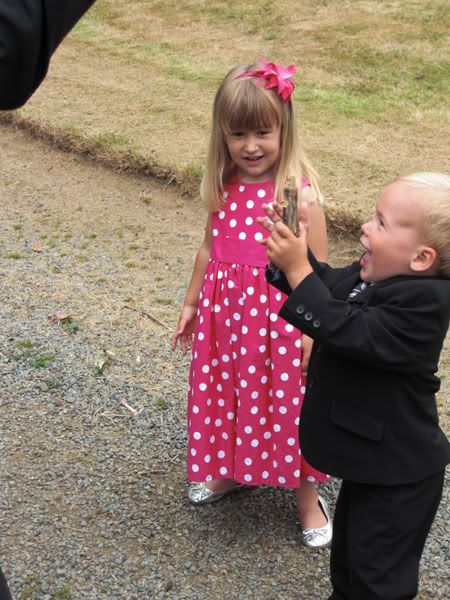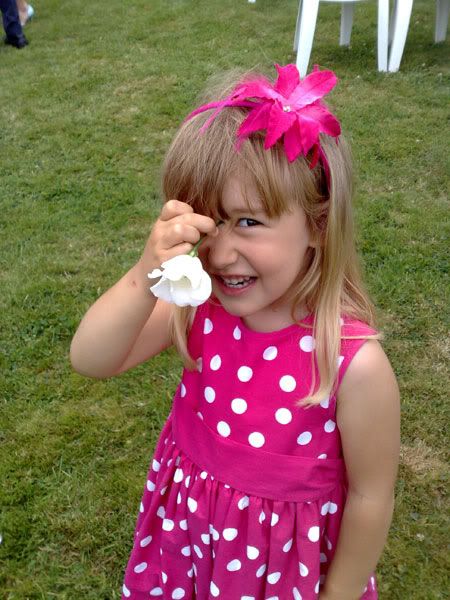 He got some of them with the littlest bridesmaid, Jessie's youngest niece (for now, there is a fourth baby due for Jessie's brother this year!) Emily.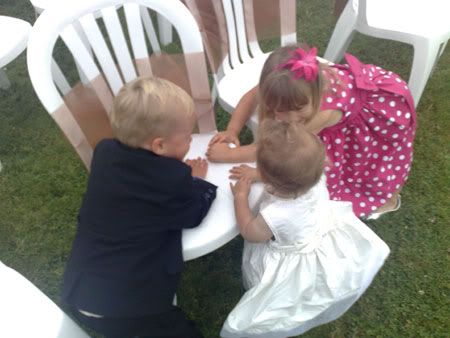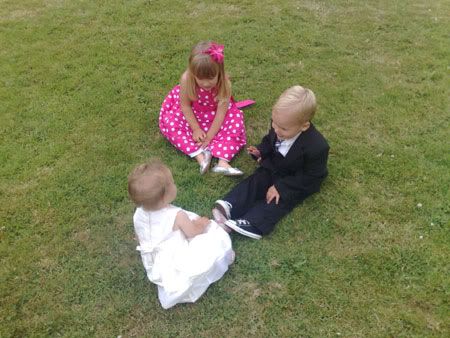 I think Jove and Emily look like a mini bride and groom here!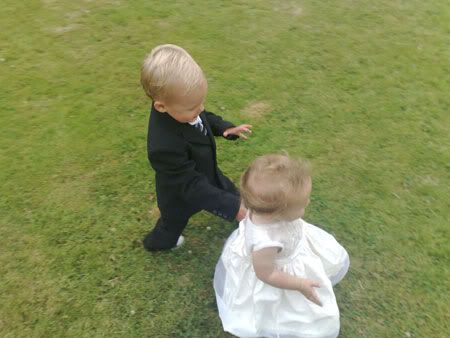 My parents and Joel and Jenny (the other recent newly weds!) had turned up by then and everyone was out the front of the Chateau anticipating the ceremony.
Finally it was time and at the upstairs window there appeared the beautiful bride!
Followed by her chuffed bridesmaids!
We walked down the grand inside staircase and out and down the front steps.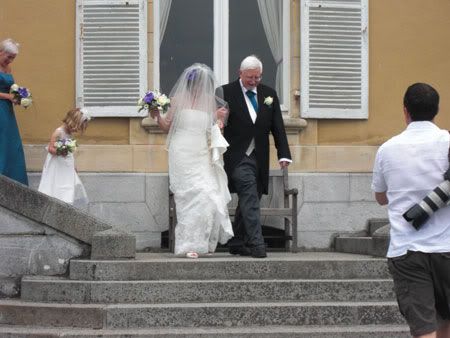 Jessie looked stunning, as you can see!
The ceremony was beautiful and very individual, led by a Humanist celebrant (just like ours was!) and with readings from Jessie's brother and an old school friend (who was also there when Jessie and Dave first met), Martha.
They had written their vows themselves (just like my brother and Jenny had, I wonder if the third wedding this year will have that too?!) and they were really heartfelt and lovely.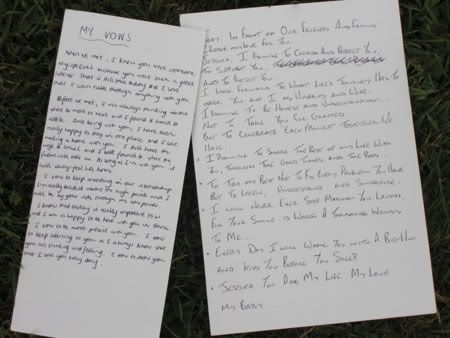 Then just like that my best friend was all married...and look just how happy the happy couple are!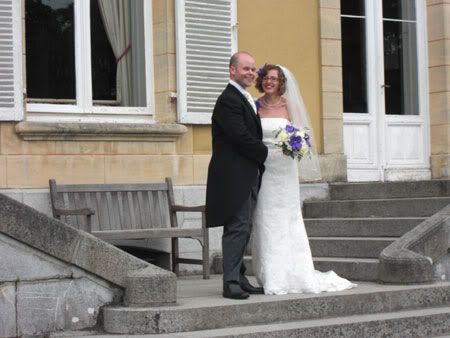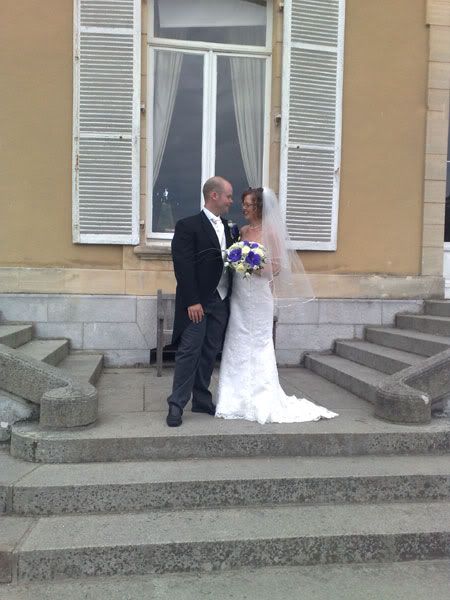 The frenzy of photographs began immediately with various professional posed shots that I can't wait to see and some quirky candids, like this attempt here to photograph Jessie and Dave with all the children that attended the wedding!
My family even managed to get some photos of Stu and the kids and I.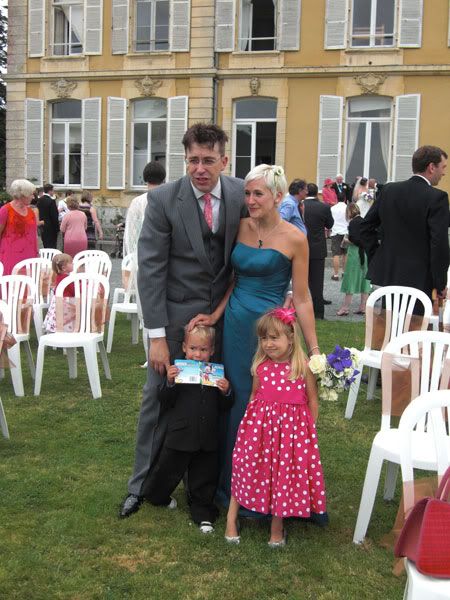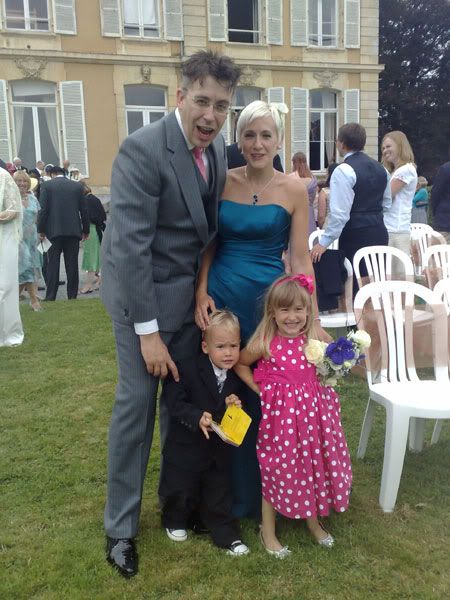 The kids were getting very hungry by this point so when the catering staff started appearing with trays of Hors d'Oeuvres my two descended upon them like locusts!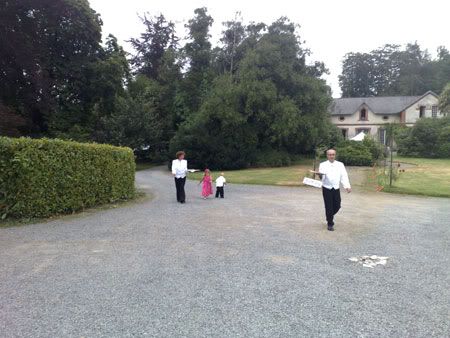 It wasn't long to go though until we all headed over to the marquee in the grounds.....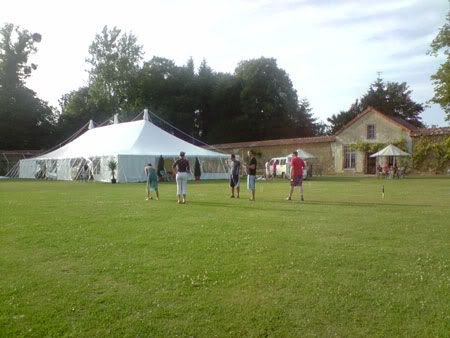 ....for a delicious and suitably French meal, beginning with a smoked duck salad, yum!
That's the last (bar one that I'm saving!) of the photos I have, Stu does have some video but we're still working on converting the files. The wedding reception continued in the same vein though, the speeches were lovely and the meal and party continued on well into the night. Jaya and Jove went to bed not that far past their normal time and my wonderful family took it in turns to sit in with them for half hour shifts. Then at around 10.00pm Stu took over and stayed for the rest of the night. I snuck out of the party at around midnight, as I was shattered, and settled happily to sleep after a lovely day.

Sadly after such a lovely day I woke in the early hours of the morning very sick (and no it wasn't alcohol related!) and Stu followed suit a few hours later. It felt very much like food poisoning and the only thing we could pin it down to was some duck liver pate we had eaten for lunch the day before as that was the one thing the children hadn't eaten and they were fine. Stu and I were so ill we couldn't get out of bed (well I had an awful moment when I tried to take Jove down for breakfast and had to abandon him in the vast kitchen all on his own to run and throw up!) so wonderful Jessie came and spirited away the kids and Simon kindly went out to get us some Imodium. We were so ill we couldn't fathom getting in a car and driving 5 hours to a ferry so we started to try and change our ferry time. Several phone calls later we discovered that the only ferry they could offer us was at 4.00pm the next day. This was no good as I was meant to be at a spa hen do the next morning, it had already been paid for and wasn't cheap! We had no choice but to take the ferry we had booked. Somehow we dragged ourselves together, loaded the car and got on the road with poor Stu still throwing up minutes before we left! As I said before I was a few hours ahead of Stu with the sickness so I could tell he was going to feel better as time went on and just kept trying to boost his energy and mood as he completed the long drive. I really wish I had managed to pass my test beforehand so I could've shared the journey. Somehow we made it to the ferry in time and I settled Stu and the kids to sleep for the journey. We eventually made it home in the early hours of Saturday morning and I made it to the spa day at 10.00am full of guilt at leaving Stu alone with the kids to do all the shopping for Jaya's party! He is a hero and managed it and I felt tons better after a few relaxing hours. Neither of us really felt fully better until Monday though!

As nasty as it was at the time the sickness really was just a blip on an otherwise lovely trip to France and gorgeous wedding. The kids had a great time too as they adore Jessie, got to see my family and made new friends. Jaya even picked up a little French, although I need to work on her usage as she has been coming out with sentences like "Jove would you like a cake? Bonjour!" or "Look at all those vache, merci"!
I want to close this diary entry with a photo of Jessie and Dave kissing. Every time someone clinked their knife on their glass, Jessie and Dave had to drop everything and kiss! It was such a sweet idea and we all enthusiastically clinked our glasses whenever it seemed like the newlyweds hadn't kissed in a while ;)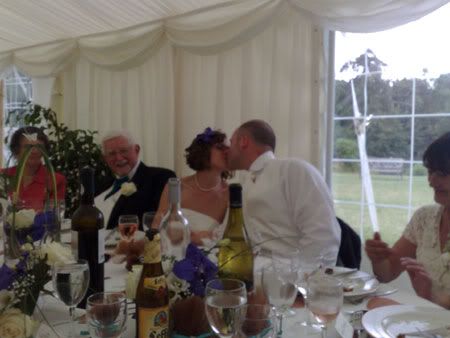 Congratulations you lovely two, I couldn't be happier for you!


STOP PRESS...We haven't had a chance to edit it properly yet still, but here finally is some video footage of the day including the whole ceremony :D

3 comments so far
previous | next